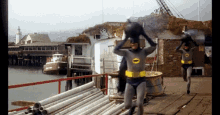 Hi there! I played my first Mushin deck! It was as awful as it was glorious. The deck went undefeated at the Chancelor of Servers team event during DomeCon 2020, but Mushining is just not my thing. The games take forever and I never feel like the win is my accomplishment. Maybe someone else will enjoy it though.
Notable jank: If you Mushin + advance a Plan B and the Runner runs it, you score a Viral Weaponization from hand. That means the Runner loses their hand after their turn, even after the draw from Class Act. It is hilarious, but rare, as jank like this usually is.
Mushining Marilyns and then using Back Channels before they run out feels amazing, not gonna lie.
Thanks to Dome for once more organising a fantastic weekend, to all the players near and far, and of course to Simili and Bast10n, my jank-loving teammates!