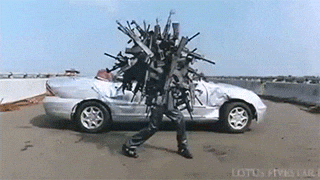 On Wednesday before APAC tournament I still intended to play Titan. I took it for a practise spin on our GNK and it did not feel great. As my friend @t.p. remarked, I lacked the basic Titan skill: to draw cards in right order.
So I decided to stick with the guns I know best. I took Argus even though the matchup against 419 is not good. But I knew that the tournament would be tiring (I had to get up at 4 am and I also expected more rounds) so playing a familiar deck felt better than playing the strongest one.
In the deck that helped me to win Bcom I made only small changes. I replaced the Armed Intimidation by Cyberdex Sandbox as its ability is super-relevant in current meta and I switched two Winchesters for one Spiderweb and one Hortum as I knew the kill plan is even less probable and I would have to focus on rush strategy.
In the swiss I ended up 9th but @nbkelly who ended up 2nd could not attend top8 next day so I advanced instead of him. Thanks man! In the cut my luck somehow let me through until I lost in the finals to surgically precise play of @Whiteblade111.
Unfortunately, my schedule for next weekends does not allow me to compete in the inter-continentals top 24 so I was happy to return the favour to @nbkelly by suggesting he gets his well deserved right and attends the tournament instead of me. It feels right.
Finally, I would like to congratulate to @Whiteblade111 on deserved victory, to thank all my opponents for good games and mostly give BIG THANKS to TOs and Nisei in general for making this happen.
Also, I would like to give a shout out to @Krasty, the biggest NR enthusiast in Czech Republic, who got up every day at 4 am to watch and support us!