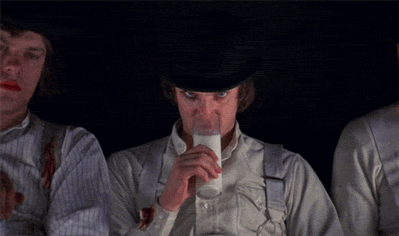 "There was me, that is Alex, and my three droogs, that is Pete, Georgie, and Dim, and we sat in the Korova Milkbar trying to make up our rassoodocks what to do with the evening..."
"So this is a hundred-percent ruse deck." - Higgs
This deck took me to 1st place at the Colorado Regionals, going 1-2 in the Swiss, winning against Andy and losing to MaxX Opus and Val Desperado, and in the break went 2-0 beating the same MaxX and Val when I was able to actually draw Moons. One win was a Boom, two were scores, though one could have been a technical kill if I'd let his Hail Mary Mad Dash kill him. (I wasn't able to play one swiss game against an opponent, as he conceded to me to go home to his child, which is the real winning strategy).
In my defense, it's not like I intended for this to seem like the ultimate ruse job. But sometimes, you gotta go back to your one true love. The one who always stood by you.
I've been packing meat in HB since the old days of CI with Punitive Counterstrike and Reclamation Ordering back three Restructures, or playing two Sea and two Scorch in regular ETF. And it just so happens that Hard-Hitting News locks fueled by Clone Suffrage Movement and Friends work magically with Estelle Moon.
But the real big addition was Mumbad Virtual Tour. In the past, you ran into the awkward situation that, given a long enough timeframe, opponents could just trash through all your Suffrage Movements, even through ELPs. But Virtual Tour both puts a huge dent in most economic engines and helps opponents fall below the critical eight-credit line for Hard-Hitting News. No longer do you have to Friends back two CSMs and console yourself with stealing their time. Now you can get a CSM and an MVT, and tax them for one click and seven credits, as opposed to just two clicks and four credits. Profits like that add up with this deck, especially with ELP.
And even if your opponent assembles a fearsome base of protection against your tagging shenanigans, don't forget: you're still HB. You still get to never-advance agendas behind big Bioroids and on MVTs, daring your opponent to come and get them.
At least, that's the theory. In practice, I probably would want a Biotic Labor if I played this again.