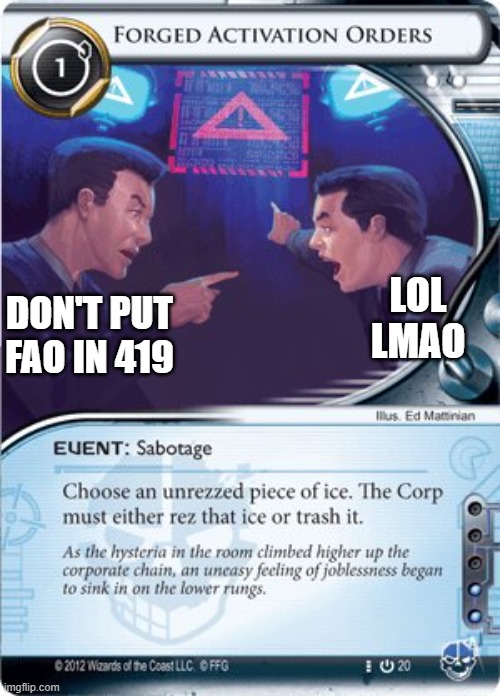 Two days before the CBI my plan was to skip the event. I've played almost zero Netrunner since OTG last year and felt completely unpracticed and out of touch with the meta. A friend convinced me to play, and so I updated my plan to geting swept R1 and dropping.
To protect my fragile ego and build in an excuse to scrub out I got drunk Friday night and cut unfun cards like citadel and wake implant for motherfucking FAO. I had never put FAO in a deck before, and at first I put in only one copy but worried I'd never draw it and quickly put in a second.
On the day it did well vs Ag, had marginal utility vs R+ and zero utility against iceless Sportz. My heart says 10/10 would play again and common sense says there are many other better cards in the slots. I love 419 without wincons because it builds good habits and forces you to figure out how to deny your opponent's gameplan, but after careful review of the tape from this weekend it appears multiacess is good.
I never expected to make the cut and feel so fortunate to have placed 3rd. Much love to all my opponents and NSG OP for putting on an incredible event.
P.S. Presented below is the purest form of deckbuilding (aka the real Process). I got 3rd therefore FAO is correct: