This is the Gagarin deck that helped me winning this year's Domecon's main event, placing 1st out of 34. Well, this and a good portion of luck, I'd argue. But other then my runner deck - which was mainly a meta call and avoided its bad matchup until the last round of swiss - I think this deck here might actually be good.
So what is this deck?
The basic idea is fairly simple: Score a False Lead, land a Hard-Hitting News, sack the False Lead after the runner cleared two tags and then Boom! them to death. It actually started as a deck that tried to score seven points and threatens to kill the runner if they dare to interrupt. But this being a Weyland deck, naturally it quickly evolved into a deck that tries to kill the runner while threatening to score seven points. I scored out once in testing, and killed every other runner in both testing and the tournament. Well, apart from my very first testing game, where I miscalculated the HHN trace because I forget Hoshiko gains a link on her flip side, which resulted in my only loss with the deck so far.
Okay, so how do I play it?
Super easy: Just pretend to be CtM and use your board to gain more tempo than the runner can keep up with. Although leaning back in chairs is a Weyland thing, this is not a slow and grindy deck. The first step of your gameplan is to get a False Lead into your score area asap. Most of the time you just install it naked turn one or two, as no one wants to pay three credits to check three unrezzed cards against Gagarin that early. Alternativly, you get a Lady Liberty on the board and "score" from hand. After that you try to get the money lead, get your kill cards into your hand and then install or even install-advance agendas. That way the Runner either has to run (and get blown up) or let you score 7 points. Of couse, you can instead always curve out with Lady Liberty (False Lead into Atlas into SLL) and finish off with a Hostile from hand.
Also, important to note if you play this deck: Do not sack the False Lead too early. Let the runner take their first or even second click and see if they get rid of the tags (or your Boom!) before you commit and make them lose the rest of their turn. It's okay if the tags don't stick, but it's way worse if this also costs you the False Lead.
Some cards that are in the deck - and cards that aren't
Don't you just lose to ...
... Misdirection? Well. Misdirection is a problem, I can't deny. It's actually the biggest problem of the deck. But usually it's only played out of Shaper, and they can't contest your board early, so you sneak out a False Lead or two, play some economy assets and start jamming behind a Tour Guide. I killed @Lennard's Hayley through Misdirection round 1 (with double False Lead, iirc), but I think scoring out quickly is your better game plan here.

... Stargate? It's okay. Installing Stargate + probably some breaker is a huge tempo hit, on which you can usually capitalize. Also, as long as you have some DBS running, you can break the lock and force them to interact with your board again. Of course a lategame Stargate with a fully setup economy engine is a different story, but your plan is never to reach that lategame in the first place.

... Apocalypse? A well timed early Apocalypse can throw you back a lot, but usually it's okay. You have Border Controls to delay them, and you're assembling your kill threat in your score area and your hand, not on the board. So after they spent all that money on the Apocalypse, you're hopefully able to land some tags and kill them afterwards. The bigger problem card out of Apoc Anarch is actually Wanton Destruction, so make sure to place your first Border Control on HQ.

... Freedom Khumalo? I have not played against him with this deck, so I don't know. I assume a good Freedom start with some economy and an early Yusuf is super hard, as is not losing your kill cards at exactly the wrong moment. I guess if Freedom is really popular in your meta, you better play another deck.

... really good players that manage their economy well, only trash the stuff they have to trash and stay out of kill range by one or two credits until they sniped seven points? Yes, I will lose to that. But I will probably always lose to players of that skill, no matter the deck. However, I have beaten players which I think are better than me in this game with this Gagarin, that's enough for me.
So, which exciting new cards do you play?
Well, that's a bit of a downer. Technically I play an Uprising card in False Lead, but as this a reprint, my only real Nisei card is the single Afshar. And while this card is good, it's not even remotely part of the deck's core. I have the feeling the folks at NISEI are no big fans of "classic" asset decks, and the archetype has not gotten much support the last cycle. Let's see what future releases bring.
Okay, so how was Domecon?
A blast, as always. I don't find much time to play Netrunner these days, so playing six rounds of Swiss was awesome, and the extra game in the top3 cut was just icing on the cake. All my opponents were super nice, I enjoyed seeing old faces again and meeting some new ones. I actually took a screenshot from the standings round two, because I expected to drop from the top every round, but somehow I kept winning. Huge thanks to everybody at the event and especially @dome_ for organizing it. I would tell you to come next year, but there might not be a Domecon next year, so maybe you missed your chance.
Also, in case you're interested, I won against Hayley (@Lennard), Hoshiko three times (@114141 once, and @5N00P1 two times), Geist (@percomis), 419 (@lostgeek) and Maxx (@Vaclav) in the tournament, while also beating Leela, Hayleys and various Anarchs in testing. I think the deck has good matchups against most commonly played Runner decks, so give it a try! Although I must warn you: You will have to calculate a lot, and you will be clicking for credits surpringly often. On the other hand, this deck runs faster than most people expect, so unless you pair it with a slow Runner or run into a slow deck on your opponent's side, you're never in danger of running into time-out.
Cool, cool. As this is the internet, don't you have a final gif for us?
Eh ... okay.
My opponents sitting down and realizing they have to play against Gagarin this round: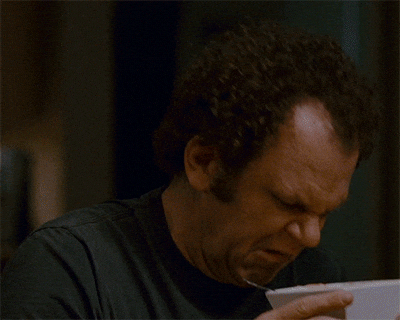 My opponents after an actually interesting game of Netrunner against this deck: