301.
That's highest my credit pool has gotten with this deck (whilst still winning). It could go higher. Ending with >160 is the norm, >210 if it goes well/late. Overall I'm clocking a very high winrate in mostly non-competitive games with this deck, as a distinctly mediocre player. Of course, it's not all about the money. Honest.
Let's dive in.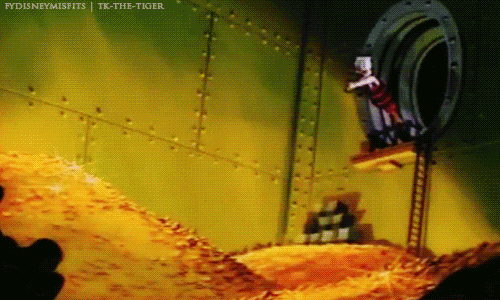 ---
Brief overview: Microtransactions uses every possible opportunity and trigger to make money, typically though NASX and Indian Union Stock Exchange, then scores out behind ETR ice with crazy high strength due to Sandburg. Taking ~40 off NASX is commonplace, >70 isn't hard. Lots of silver bullets are used to ensure that the deck remains mostly standing upright. The primary emotion felt whilst piloting it is guilt. Not a tourney deck.
Detailed overview (buckle up): Microtransactions is an updated and overhauled version of a decklist I played for a couple of months in 2016. NASX and Friends in High Places weren't out then, and those are the major changes. Though I've won some games without it, the current killer combo is IUSE into NASX, with the resulting cash powering Sandburg. By using Clone Suffrage Movement, kept in place by Friends in High Places, endless operations trigger IUSE several times per turn- and all the money goes through NASX. There are going to be a lot of acronyms.
Note: If I ever use the term 'pay in' in this write up, I'm referring to a situation where you take profit from card effects and put it into NASX counters. This includes a situation where you only made 1 credit (eg. An IUSE trigger) but still pay in an extra 1 from your credit pool. You should always do this as you never need to float a charged NASX across turns.
A full-on turn might look like this:
Rez NASX. As it's out of faction (OOF), IUSE(s) fire. Pay into NASX.
Any other OOF rezzes you have. Pay in.
If they're both present, use Executive Boot Camp to rez Chimera. IUSES fire. Pay in.
Drip econ fires. Pay in.
Take Operations out of Archives using CSM as needed.
With Jeevesrezzed, play Subliminal Messaging and two other OOF Operations that fit the situation, paying in every time. Jeeves gains you a click, leaving two.
Cash in on your ridiculously loaded up NASX.
Friends in High Places the NASX back, ready to go again next turn. Get paid to play the FIHP.
The real beauty of a turn like this, beyond making a shedload of moolah, is that you get paid for playing operations that progress and secure the game state. When paid in Ark Lockdown, for example, banks a net gain of 8 if three IUSEs are out. You just got paid to permanently remove problem cards. Celebrate with another GIF: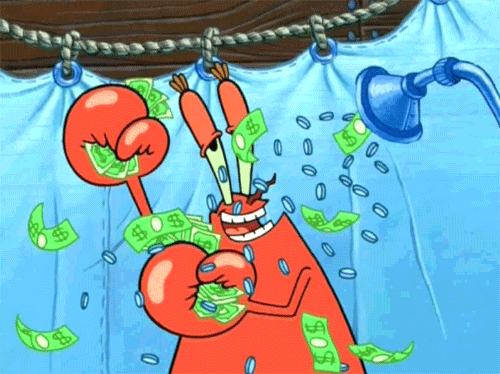 (But do remember, it's not all about the money)
---
Card and design choices:
Agendas: a low agenda density, made of ones that either don't slow you down, or pay off if they do. High-Risk Investment is pretty sweet because once you have traction the Runner usually stockpiles credits for one big run.
ICE: Printed strength doesn't matter all that much, but costly ice hurts your whole board by sapping credits. Advanceable ICE is a waste of time. OOF where possible, so that facechecks actually profit us. ETR first and foremost. Program trashes are fun (old decklist used Rototurretbefore inf became tighter), but porous. With EBC we have the scope to rez 4 and lower ice for free, so that's the area we're aiming for. Guard stops early Crims (Leela disruption, for instance), Lotus counters SIFR, Tour Guide helps with David and ABR. Chimera is useful early, but also has the (questionable) use of giving us another route by which to pay in. Holding a strength 22 Sapper in HQ is hilarious, but it could be cut.
Assets: The Sandburg buff, money and ops recursion are the obvious core of it. A third JHow doesn't seem necessary, as they're only there for agenda flood. Lizzie Mills deals with Slums, Blackmail, and BP negating the Gagarin tax. EBC deals with Blackmail, Passant, DDoS, and serves as an asset tutor and another way of getting IUSE/NASX triggers. Public Support serves as a tutorable 6&7th points if needed, but also has the happy benefit of keeping the Runner poor through an endless trash/FIHP dance.
Operations: Consulting Visit is a 3-of for consistency, but only one needs to be found. Beyond that the Ops choices are probably self-explanatory, bar perhaps Lockdown (only deal with threats once, then just cash up) and Best Defense. Best Defense is a silver bullet incarnate, taking out Tapwrm (a massive threat, as it creates a ratio between your economy and the Runner's), ABR, DLR, Faerie on optimised Baba Yagas, FTT, SMC to slow down Shapers, Spy Cams, and Tracker. Also, hitting random street urchins with it amuses me greatly.
---
Threats:
This is a very long list, that can be condensed to 'anything that doesn't play the ICE straight, or gets unusual accesses'. I can't comment on how other metas would affect it. To briefly cover the two worst:
Rumor Mill turns off Sandburg, Lizzie, NASX, and Jhow. Expect to get into a current war if you see if played (it'll slow you, but not be the end of your game- exactly this happened to me at our meet last night, and I went to win on 277).
The most probable hell-scenario Microtransactions faces is Rumor Mill and Slums hitting the table at the same time. Lizzie can't get rid of Slums whilst Mill is in play, and Sandburg just sits there, vulnerable to being Slums'd. This is the biggest reason for tutoring Scarcity ASAP, because the easiest counter is just to put Scarcity back into play and then Lockdown the Rumor. I've not yet lost a game where this has happened to me, but it's still a considerable hurdle.
Slums is irritating, but if it hits the table when you've already gotten to ~70, it's usually too late. If it hits early, however, you might want to consider installing over your more valuable assets, then FIHPing them back into play once you clear the threat.
I've not played the list versus Apex. I've no idea what would happen.
---
Changes & rotation:
I've created both a 49 and 54 card version of this deck, now. I think I prefer the 54, but it's much less tested.
Whilst I'm worried that losing the Gagarin ability would throw the early game, changing to Skorpios to more readily remove dangerous cards might be viable (and possibly free up Lockdown inf). Alternatively, switching to BABW and using the ID to as an extra NASX pay in on a repeated Green Level Clearance sounds potent (with 3 IUSE, a single BABW Green Level would bank 20 on to NASX).
Self-Adapting Code Wall- Ohhh, mama. It's OOF, the full rig already makes a pre-NASX profit on the rez, and would take the list to 6 ice that can't have STR lowered. Yes please. -1 EBC and +1 NASX would be sensible, really. Could simply drop the Public Support for more reliable ICE draw, and a Quetzal game got me considering switching the Vanillas for Quandrys. I waver between CVS and Cyberdex Trial. Both have their uses, but the latter is notably tutorable beyond an Atlas. Could be cut all together.
I've written a load on threats, piloting tips, and how the deck would fare through rotation, but this is getting rather long. I'd rather just answer direct questions, if any. One last thing: the deck is also called Auxesis, as it's almost an anagram of NASXIUSE. I'm hoping that the next errata will rename NASX to just 'ASX' for the sake of my ego.
Have fun, happy money-fort-ing (friendly reminder that it's not just about the money), and one for the road: